How to adopt ?
1:Read our adoption policy
2:If you can comply with our requirements please email us for an adoption application form - [email protected]
3: We will let you know which Guinea Pigs we have available or add you to our waiting list.

Adoption policy 2022
Its great you have reached this page that means your interested in adoption but, i just want you to think carefully about a few things before we go any further.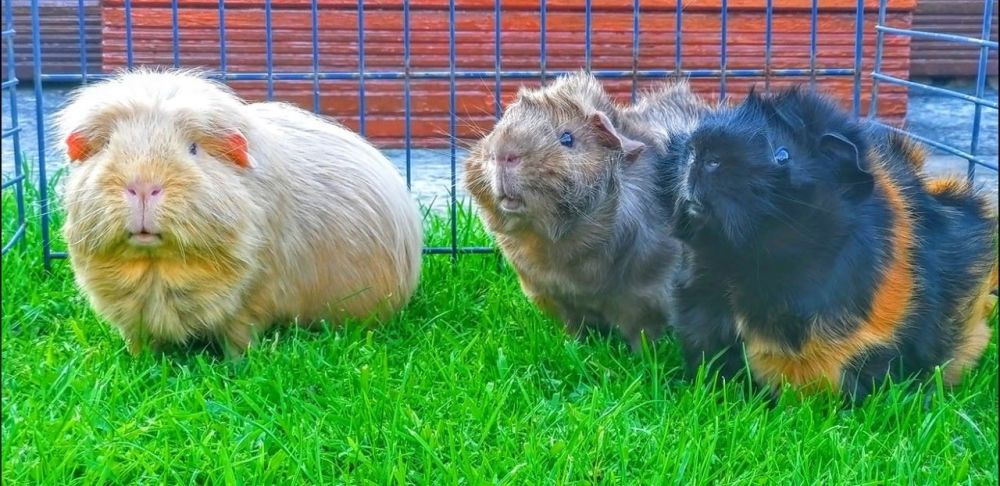 Why are there so may unwanted Guinea Pigs ??
People buy them for the wrong reasons - common example is pressure by children.
People experiment with breeding and it gets out of hand
Home and family circumstances can change - House move,rented accomodation.
People cannot afford to keep them anymore - Redundancy / unemployment/ health
People did not research fully what was involved with owning Guinea Pigs.
People buy new pets or their existing pets wont accept new arrivals !!
People have a baby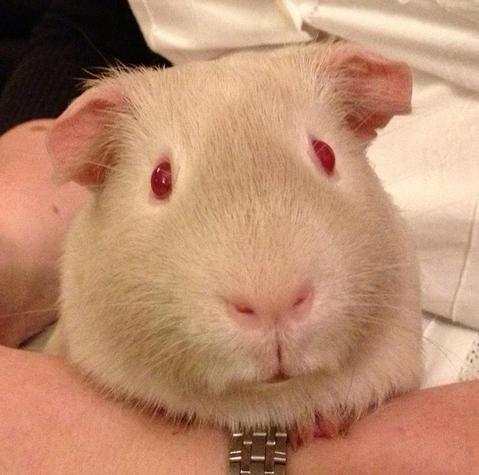 Thats just a few REAL reasons, here are some we have also dealt with:
"The kids have lost interest"
"Its too cold to go out and feed them"
" I never wanted them it was the kids who bugged me"
" Kids are older now and have lost interest"
"Since the new puppy came along i cant cope with Guinea Pigs too"
" I am struggling with a new baby and Guinea Pigs "
" They were a gift but i dont like them"
" Cant afford it now, what with our new kitten and all"
" They squeak and make funny noises "............ yes i know.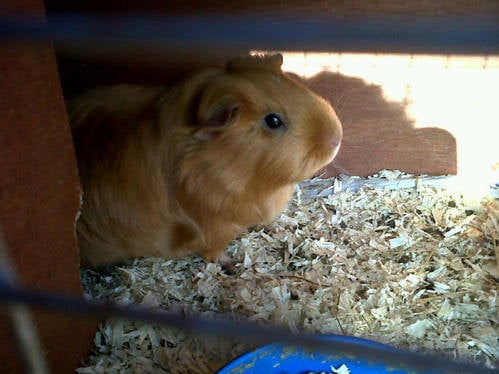 Now we know life does change and who knows whats around the corner, but it seriously pays to do your homework and have a really good think before taking on Guinea Pigs or any pet.
Its a long term committment 4 to 8 years.
When considering adoption please think about :)
Time you have to give
Love you have to share
Space you have to care
Thank you
Helen
************************************************************************
Our adoption Policy 2022 :
1:We only rehome single Guinea Pigs to live with an existing companion.
We rehome Guinea Pigs in bonded pair's.
We do not rehome Guinea Pigs to live with rabbits.
https://www.rspca.org.uk/adviceandwelfare/pets/rabbits/company/rabbitsandguineapigs
Descriptions of our available Guinea pigs are clearly listed on our web site.
Adoption donation £15 per Guinea Pig
Adoption donation for a boar NEUTERED by our vets is £50 this will help cover our surgery costs.
Adoption donation for a boar already neutered on surrender is £25.
We match our Guinea Pigs with your circumstances - A set up check may be carried out in person by one of the rescue team prior to adoption.
All our guinea pigs are re-homed on the basis that they are not to be used for breeding.
We cannot guarantee the age of sows, so it is important sows are not bred from.
Birth problems can occur in sows that have not had a litter before the age of 12 months.
Most of our rescue guinea pigs boars and sows have already had a difficult time and just want a peaceful loving home free from extra stress.
All adoptions are considered on an individual basis by the rescue manager whose decision is final.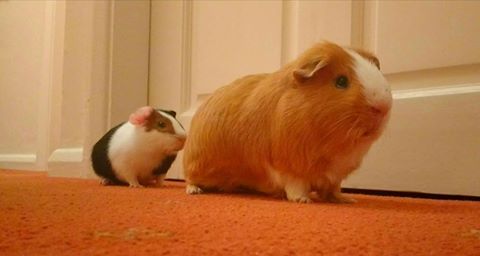 2: Existing pets:
Think carefully how your exisiting pets will accept new family members, this mainly refers to Dog's and cat's.
Dogs are a huge part of a family,and some breeds can instinctively be interested in rodents !! So its worth taking into consideration how your beloved pooch will welcome Guinea Pigs into your home.We have added this reminder to our policy as sadly Guinea Pigs were recently returned due to a pet dog becoming very stressed and not leaving them alone.
We recommend all owners never leave their Guinea Pigs unsupervised around other animals and use a fully enclosed run in their garden.
3:Quarantine of two weeks is applied to all Guinea Pigs we receive into the rescue.
A full health check and mite treatment will be carried out during this time.
Owners who have experience of guinea pig care have the choice to carry out quarantine themselves at home and before introducing a guinea pig to an existing Guinea Pig.The wellbeing of a depressed guinea pig is paramount and the benefits of exclusion have to be weighed up. Guinea pigs can be placed near to one another so at least they can share conversation and smells. This is occasionally done with neutered boars.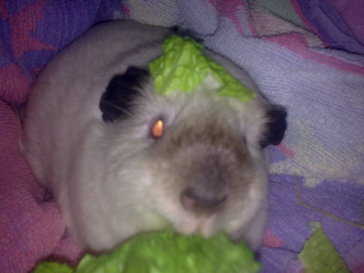 4: Accomodation
If you live in a rented property please check with your landlord you can have Guinea Pigs in your home.
We only rehome indoor Guinea Pigs to SMOKE FREE homes - see web link page for information why.
On our Guinea Pigs available for adoption page our residents will be listed as either requiring INDOOR or SEASONAL accomodation.
See definition's below.
Seasonal accomodation definition:

Hutch can be based in a sheltered outside area during summer months, moving to a Garage / Shed during winter months - with lighting,heating and insulation.
Inside area must be available at time of adoption - garage not used for car storage.
Secure garden with fox proof mesh covered run available - 5ft x 2ft - protects from other animals and birds of prey
5ft x 2ft length hutch - minimum for 2 Guinea Pigs,this size gives plenty of room for toys and tunnels.
Waterproof and windproof cover.
Indoor accomodation definition:

Inside your home / conservatory all year round - run time outdoor during summer months.
A minimum 140 length indoor cage.
Various brands available on the internet, Amazon / Ebay / Zooplus sell a good range of indoor cages at good prices.
C & C grid set up - 5ft x 2ft minimum loft space optional
Examples of accomodation and garage area's.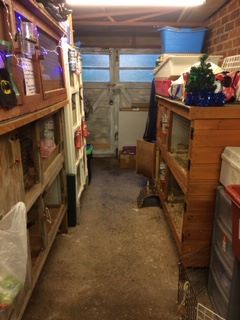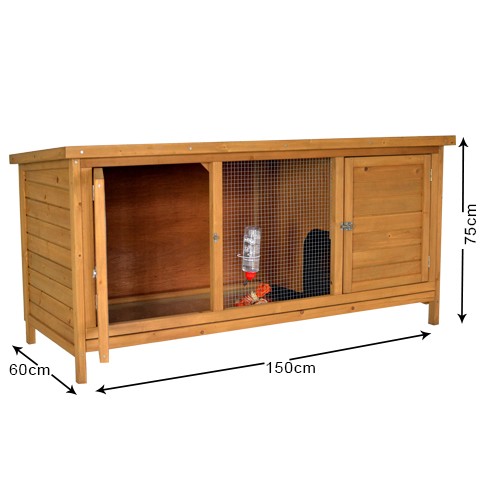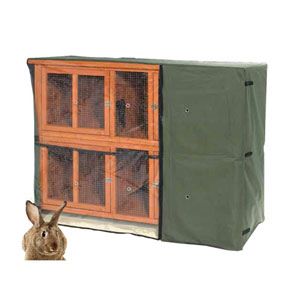 We recommend the Chartwell 5ft hutch double or single, its very well made and meets the requirements of our policy.
Visit www.homeandroost.co.uk who make and sell the Chartwell plus a really great range of british made products for Guinea Pigs and Rabbits - There is a link to them on our webs link page.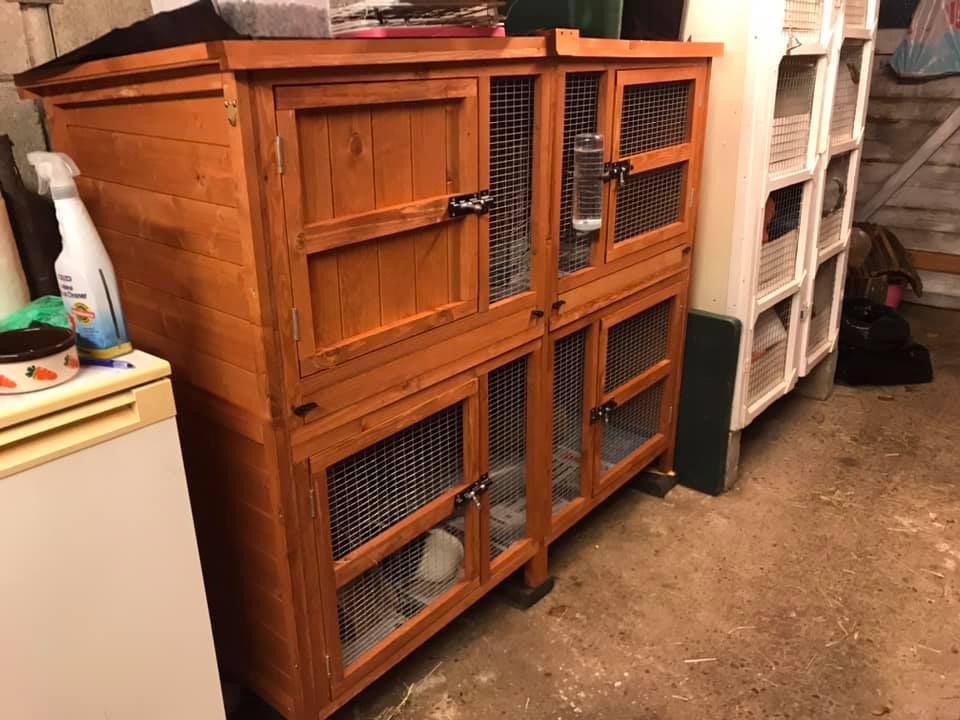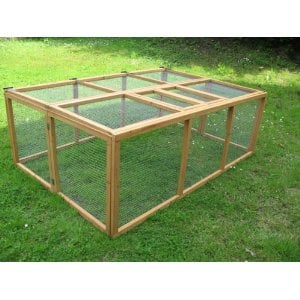 5ft x 3ft run
160cm Indoor cage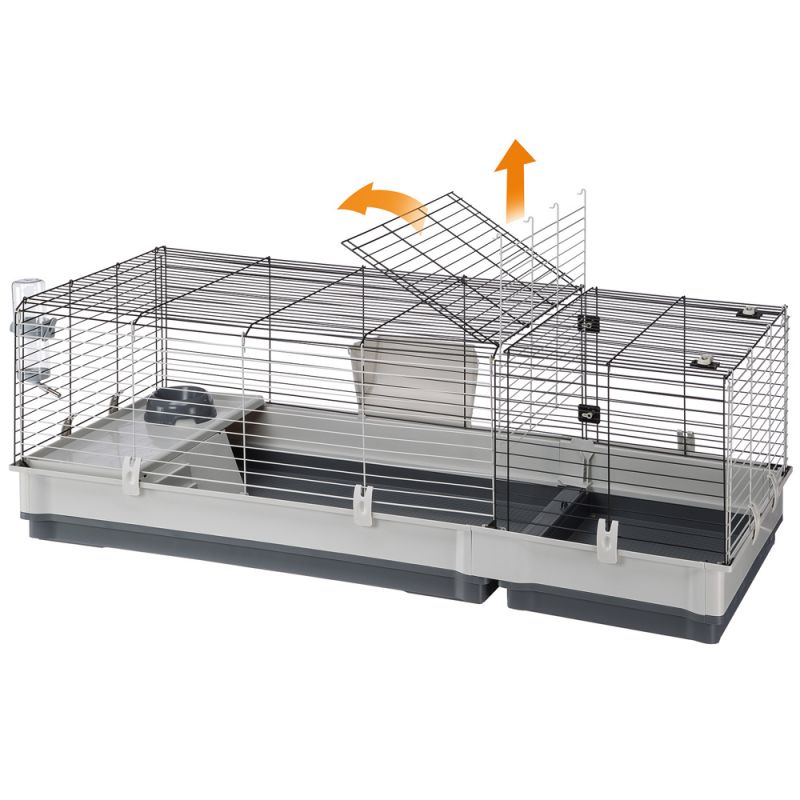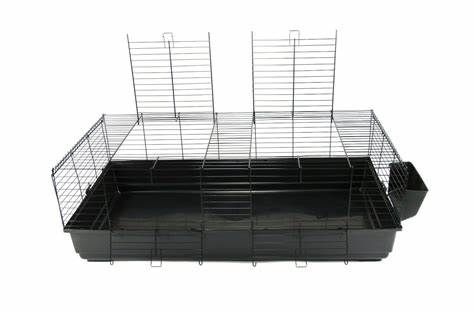 C & C grid minimum 5 x 2 ft set up - a loft is optional.
Example of a beautiful C&C grids set up
Further information at:
https://candcguineapigcages.co.uk/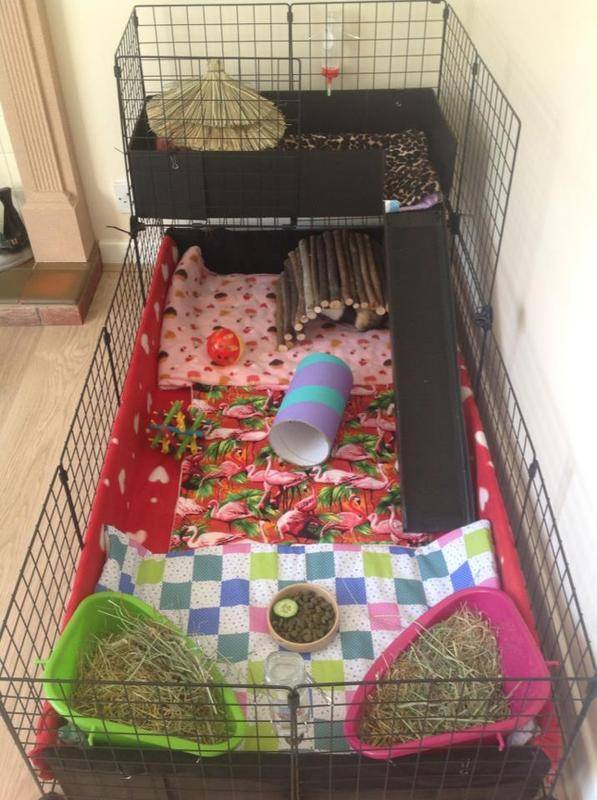 5:Diet
Adoptees agree to ensure the guinea pig is fed fresh meadow hay, a varied fresh low calcium vegetable diet and dried nuggets with added vitamin C .
You will find lot's of dietary information on our webs link page.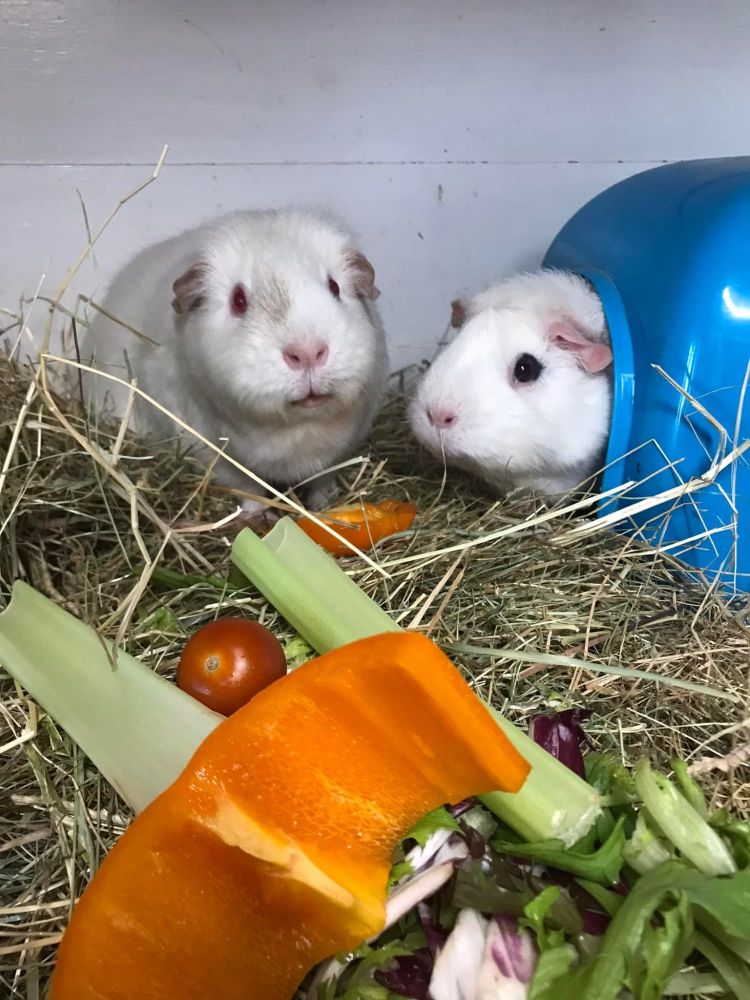 The rescue advises a low calcium diet to help avoid bladder problems - information sheets available on our webs link page.
Science selective grain free nugget is our prefered product.
Good examples are:
Burgess excell / Mr Johnsons Guinea Pig Advanced / Science selective and Science selective grain free / Harringtons
Hay and fresh water MUST be available at all times.
Bladder stone prevention:
Filter your Guinea Pigs drinking water its the best way to help prevent bladder stone issues,especially if you live in a hard water area. Its really a simple,cheap way to help reduce the chances of bladder problems along with a low calcium diet.There is more information on that issue on our health pages.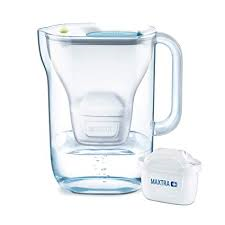 Dishes and water bottles must be cleaned on a regular basis - NO GREEN BOTTLES PLEASE !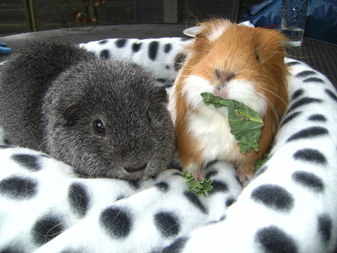 6: Vets & Health
Adoptees agree to register the guinea pig with a RCVS small animal veterinary practice and seek prompt care for a sick Guinea Pig it is a legal responsibility under the 2006 Animal Welfare Act.
Do not have pets if you cannot financially take care of them.
Adoptees agree to ensure regular health checks are carried out along with regular preventative treatment for skin parasites. All our guinea pigs are treated with a course of Ivermectin before they leave the rescue. Its important good skin care is maintained as we cannot guarantee your Guinea Pig will never get a mite or fungal infection,its something piggies can occasionally get from Hay, housing conditions or grazing on lawns.It is important you see your vet promptly with any skin changes.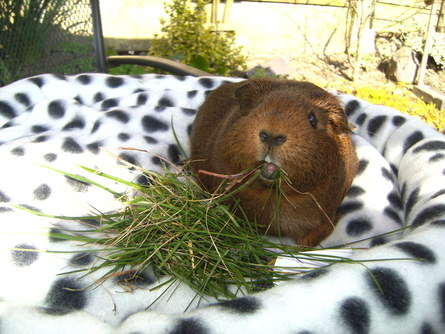 7: Love & Toys
Adoptees agree to ensure lots of cuddles and attention are given on a regular basis, play things must be provided to make cage time interesting. Guinea Pigs need regular exercise and an indoor / outdoor run of some type is essential, lawn or not.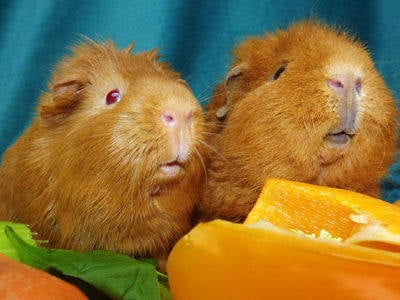 8:Parental responsibility
Parents – Guinea pigs can live for 4 to 8 years !!!
Do not adopt Guinea Pigs unless you are the willing primary carer !!
We have found that one of the main reasons for unwanted guinea pigs is that they are bought for children and the children lose interest.The parents were not really interested in Guinea Pigs and therefore want to rehome them.Its a shame and large retail pet stores make it easier to buy Guinea Pigs on a whim,without really considering the responsibility required.
We love it when families tell us they have been researching and thinking about Guinea Pigs for several months !!! Hooray !
Be prepared to cultivate their interest,ensure they find out as much as they can about Guinea Pigs and teach them about being a responsible pet owner by being a good example yourself.
We do ask parents to consider the committment required before re-homing a guinea pig, parents must be the primary carer and encourage the child's on going interest and take an active role in the guinea pigs care. Guinea pigs are wonderful, interesting animals and their care can be made educationally interesting and prove a valuable part of gaining citizenship and social skills.The rescue can give you lots of tips and information.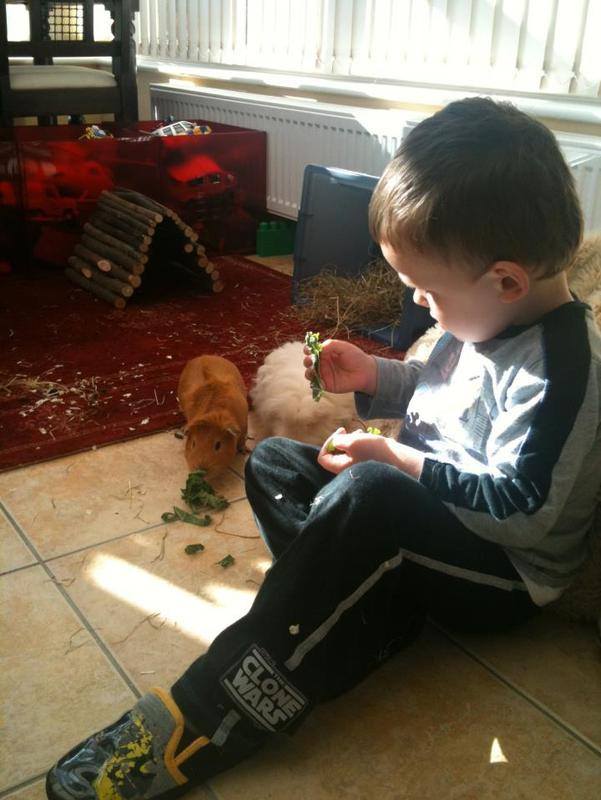 9: Schools
We do not rehome to schools / nurseries.
Pets are a 24 hour responsibility not just in school hours,we feel it sets a very bad example to leave pets unattended at school.
Sending Guinea Pigs home with different people can be distressing.
Please read our page why we dont adopt to schools and nurseries.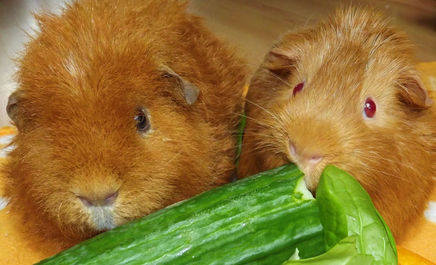 10: If your circumstances change
If your circumstances change and you can no longer keep your adopted Guinea Pigs then please just contact us,to arrange returning them to the rescue.
As you can appreciate initial adoption donations are non refundable.
Thats it,if you are interested in adoption and can comply please get in touch with us !!
Email us at [email protected]