All rescue Guinea Pigs have a story to tell,this page is dedicated to all those unheard voices waiting to be rescued :)
Gregory was very special to me,he was my first rescue Guinea Pig in 2009 and i loved him to bits.We had been through alot together and he had been with me whilst i set up the rescue and he had loved and lost 2 companions.He was lovely and the sweetest boar, helped out at all fund raising events,and had become quite a legend at the rescue......i could have rehomed him 100 times over !!! he passed away just after his 5th birthday in February 2012.
This page has been left as a tribute to Gregory.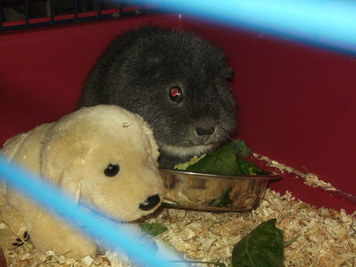 The Legendary Gregorys Story
Hello all my name is Gregory Chadwick i am nearly 5 years old, this is me in the photo above on the day i arrived at my new home April 2009, and i just wanted to share with you how important forever homes are to Guinea Pigs like me !!!
I was very lonely when my mum found me at another rescue centre,i lived on my own for 2 years surrounded by other Guinea Pigs and although lots of people had cuddles with me they did not come back.
When my mum found me she just loved me, we had a cuddle and then guess what she came back !!!!!! We arrived at my new home and i felt a bit quiet but was so excited at all the new smells and sounds.
Then i discovered........................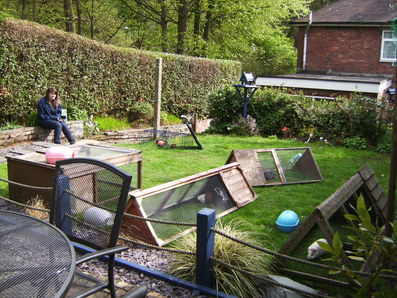 My garden
Oh my goodness i had not been on a lawn before it was brill, and i just ran around looking at all the flowers and grass how happy i was. But i still felt a bit down as i was still on my own and really wanted to chat to another Guinea pig like me.
Then one day just as i was on the lawn my mum appeared with, well what can i say the most gorgeous Guinea Pig i had ever seen,she was called Toffee and mum told me she was a rescue Guinea Pig from the RNGP in Rugby.She could not have babies so mum moved us in together and i really really loved her..........................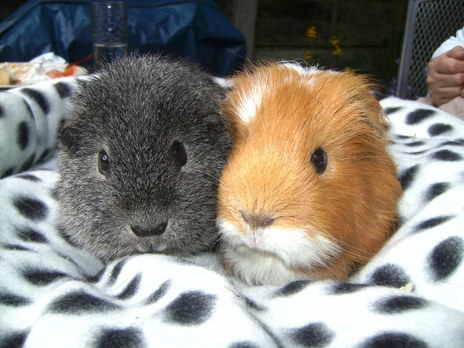 I love Toffee
Me and Toffee went every where together and loved snuggling up and eating our food......................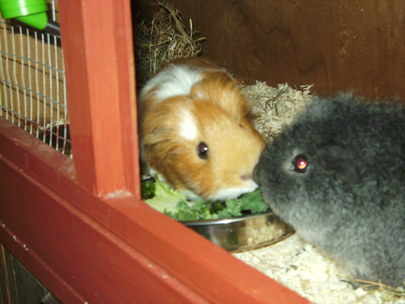 Me and Toffee on our first date.
Lasy year was really hard for me Toffee was 5 and passed away peacefully in August with me by her side,i was so upset but my mum got me a new friend so i would not get lonely.
My gorgeous adopted son Titch arrived in my life the same day, and well he was just wonderful,he certainly kept me feeling young again !! He was only a little baby and i made sure i groomed him and ensured he was kept clean.Titch was so tiny and i know Toffee would be really happy for me having had him in my life.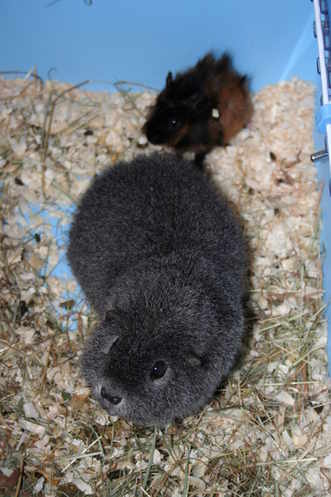 August 2010
Me and Titch when we met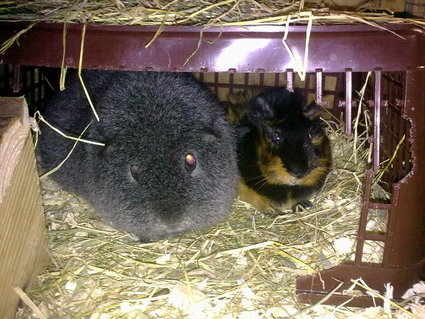 Me and Titch 4mths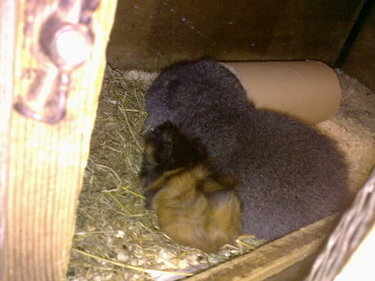 Me and Titch cuddling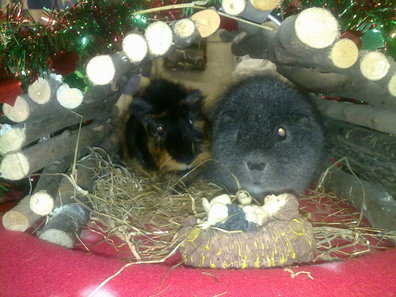 Our first christmas 2010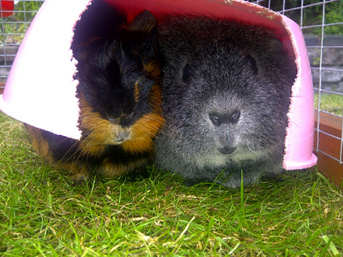 Sunny weather on the lawn July 2011
The reason i asked mum to put this page on is just to make you aware of how much Guinea Pigs like me appreciate being given a second chance and a forever home,i have gone from being a lonely neglected Guinea pig to having my own forever family.
Thank you for reading this and if your interested in maybe adopting a Guinea Pig like me then please call my mum,we have lots of piggies just like me
xxxxxxxxxxxxxxxxxxxx Gregoryxxxxxxxxxxxxxxxxxxxxxxxxxx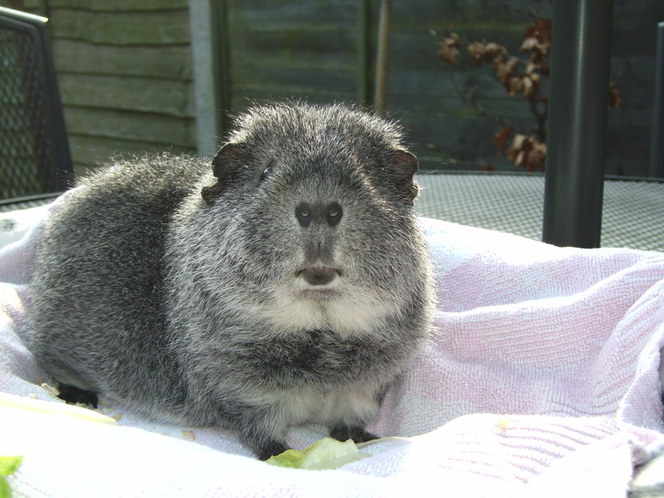 The Legendary Greg RIP February 2012
***********************************************************
Cindys story
My name is Cindy Lou Who i was found in a box at the leek animal auction,where some breeders take unwanted Guinea Pigs.I was with my 3 babies,it was quite scary and i had mites and lice.A kind person brought me to the rescue.I was timid when i arrived as i had never really been shown any kindness.My babies grew quickly and were found loving homes.
Helen introduced me to Oliver a neutered boar and we fell in love straight away.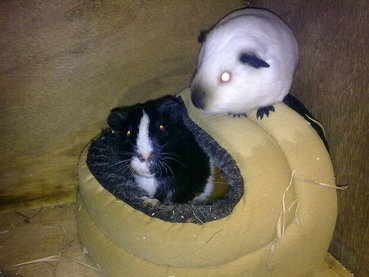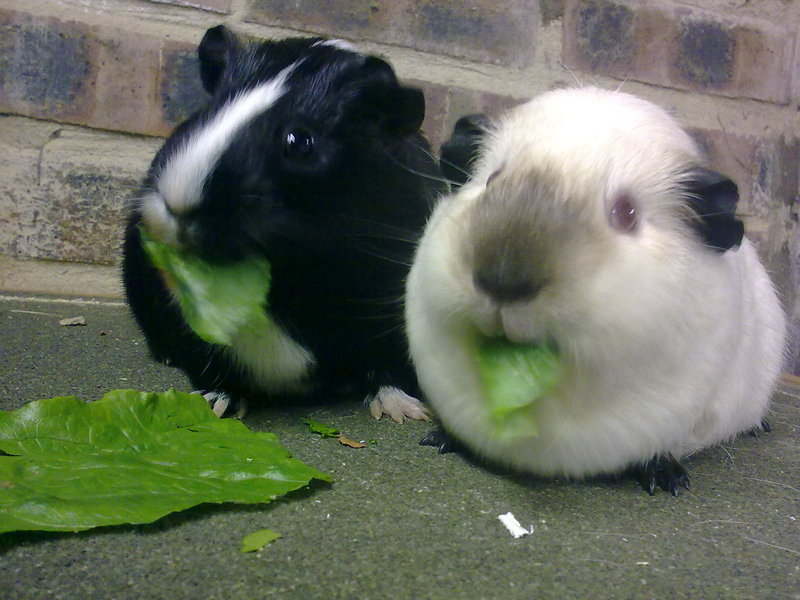 Oliver and i went everywhere together and i was so sad in 2011 when Oliver passed away.Helen gave me lots of cuddles and reassured me i would have a new friend.I now live with my lovely husband Dylan Howard,he too was lonely after Sally passed away.He is lovely and i am very happy.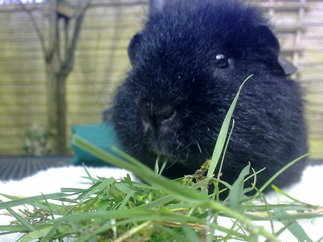 Dylan Howard
Please help give other Guinea Pigs like me a second chance xx Cindy
Hensels Story
Hello my name is Hensel i just wanted to share with you my experience of being a neglected Guinea Pig.I really was very unhappy,lonely and in a great deal of pain and discomfort,i lived on my own in a dirty cage and i dont think anyone loved me.One day i was taken to a new place and was given a lovely hug and i just knew things were going to get better.It was hard because i had to have baths and cream rubbed on my skin,it was uncomfortable but i also had cuddles off my foster mum Claire and lovely food and discovered ....the lawn !!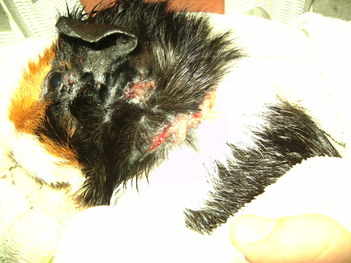 Hensel June 2011
Then one day my foster mum Claire introduced me to another Guinea Pig called Harry,he was just gorgeous and we cuddled up,played and ate food together.I was really happy.My foster mum told me they were looking for a new family for us and we went to stay with Mandy for a couple of weeks whilst we waited.Last Saturday they came to meet us, they were lovely and me and Harry are very happy, i have peace at last and am very happy living in Warrington.
Me and Harry July 2011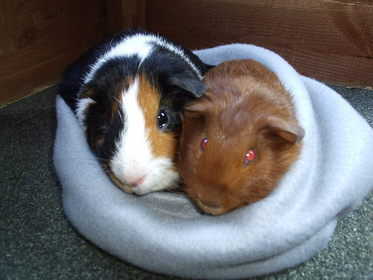 If you know of a Guinea Pig in need please let Helen know
---------------------------------------------------------------------------------------------------
Sallys story
My name is Sally Chadwick i am nearly 4 years old.My mum found me in another rescue before she started our rescue.I had lived on my own for 18mths in a small cage and i was very scared of everything,so because i did not like being picked up people overlooked me.I am not to keen on other sows so people kept bringing me back.I must admit i had lost hope of a forever home :(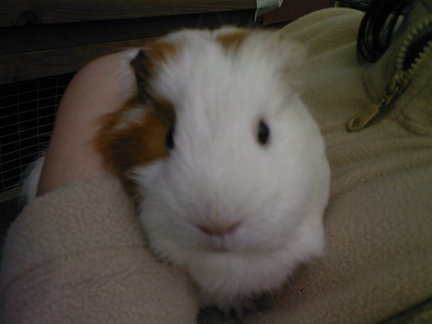 This is me !
Then my mum came and fetched me, it seemed quite a drive but when we arrived i had a lovely run on the lawn !! I had not been on the lawn before !
I had a bath and then the most wonderful thing happened this gorgeous black neutered boar Guinea Pig came running towards me on the lawn.His name is Dylan, and well we fell in love straight away and now live very happily in our lovely 5ft cage with toys.I still dont like being picked up but my mum is fine with that,she tickles my nose and thats says we love one another.
So please dont overlook the timid Guinea Pig like me, we just need time to settle xx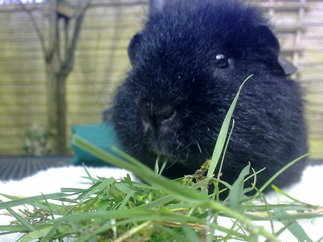 My lovely Hubby Dylan Chadwick xx
Sally passed over to the bridge in October 2012,rest in peace xx
------------------------------------------------------------------------------------------------
Jessica`s story : Warning distressing photo
This is a sad story with no happy ending but it needs to be told,as this was the worst case of cruelty we have had in the rescue.It all started in July 2010...............
Claire was still running Second Chance Guinea Pig Rescue when a breeder approached her asking for help in downsizing due to health reasons.Claire had a think about this and we agreed to help in the best interests of the Guinea Pigs. Jessica arrived in the rescue, we were upset, shocked and appalled as to how emaciated she was and obviously very sick.The breeder said she was not taking her to the vets again and she seemed ok.
The really upsetting thing about this whole situation is that Jessica was very gentle and seemed so happy to be with us.Goodness only knows what pain and discomfort she had been in,so we paired up staright away with a little baby sow friend,and Jessica actually popcorned.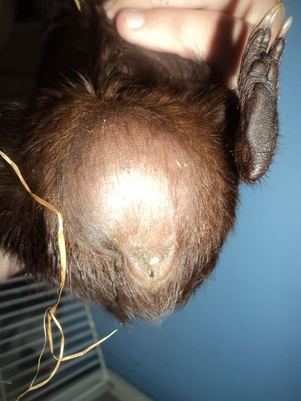 Jessicas badly swollen abdomen on arrival
Jessica was sick she had an awful distended abdomen,which i still get upset about.When squeezed her urethra squirted pus out.The vet was appalled and she needed urgent surgery but was very thin.Jessica was commenced on antibiotics and pain relief,pending emergency abdominal surgery 2 days later.
She moved in with baby Polly at Helens house and received tender love and care.She went on the lawn and had lovely fresh food to eat.From the photo below you can see how emaciated Jessica was,we think she was about 1 year old.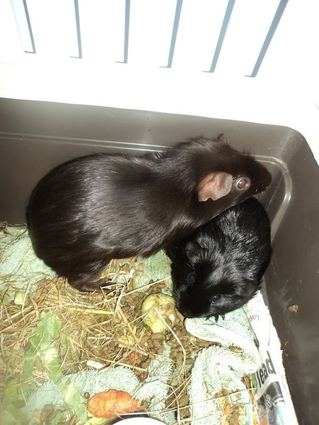 Jessica left and Polly
On the morning of 29/7/10,2 days after arriving Jessica was found lying down in her cage struggling to breath.Shortly after being found, she passed away peacefully in Helens arms,moving on to a life of happiness at Rainbow Bridge.
And the really sad thing is that we later found out the breeder in question was still breeding,and really just used us to downsize.You learn by experience certainly in the field of rescue and rehabilitation,we will never to be taken advantage of again.
Soon after this incident i decided to form The Potteries Guinea Pig Rescue.
We have never forgotten Jessica, run free little one with Darcy and Whiskers at Rainbow Bridge
------------------------------------------------------------------------------------------------